The Sher Garh Resort Ranthambore

Sherpur, Ranthambhore
Sawaimadhopur, Rajasthan 322001
India
About Hotel
The Sher Garh is a royal heritage resort in a breathtaking four hectare's oasis of beautiful landscaped gardens. The Sher Garh enjoys an unrivalled position, just 1.5 kilo meters from the iconic RANTHAMBHORE national park. Each of our room affords uninterrupted views of the JUNGLE. The hotel is approached along a sweeping drive way, Verdant with native trees & lit by flaming torches. Just inside, A Mughal style quadrant is ornamented with cascading fountains & framed by an arched passage way. Throughout the resort adorned with Mughal arches, high domed ceilings & magnificent crystal chandeliers. The Sher Garh epitomizes traditional Rajasthani charm & luxury.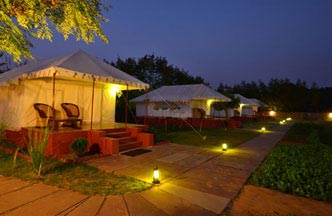 About Accommodation
With 19 air-conditioned suite & 4 luxury tents, the wild life resort wins you over with its attention to minimalistic chic interior and stylish architecture. Each room is spacious & furnished with king-size beds, chairs, & tables. Each room has a verandah at the back with deck chairs for sunbathing & watching landscapes. The bathrooms are large & each bathroom comes with a separate dressing area providing urban comforts. There is an alternative open air shower area near the bathroom for guests who want to enjoy a hot water shower under the tropical sun in the close environs of nature. The resort will soon boast of a swimming pool & an open air barbecue area for their guests.
Dine Under the Star
An exclusive dinner by the poolside surrounded by serenity romance & lives traditional INDIAN music. Indulge in our master chef's creation from the royal kitchen. Enjoy a romantic dinner beautiful crafted & set with flowers & candles in your room balcony. Our private butlers will pamper you with the choicest of food & drink balcony overlooks the resort's lush gardens.
Bush Dinner
Special Bush dinner can be arranged on prior Notice at an additional cost INR 3000.00. Min for four people inclusive of taxes (Please contact reservation/sales office of the resort).
Our expansive luxury suits features an elegant living room, bedroom with unique two poster bed, walk in ward robes & private balcony with panoramic views across the Aravalli hills. The Classic pink granite and evergreen marble bathroom is fitted with a gleaming separate shower, sinks and vanity corner.
Stay in luxury tents and transported back to the times of the Raj, when caravans of Royalty would rest overnight and under magnificent shelters in the vast Rajasthan desert. Our luxury tents are temperature controlled.
The Pool
Refresh your weary spirit with a swim in the cool blue water of the pool. If this does not sound too exciting, try the massage therapy by our trained masseurs for a perfect therapeutic relief & our poolside bar will serve you all kinds of delightful Mock tails, while you relax. The Sher Garh in Ranthambhore is the perfect base from which to explore the territory of the majestic tiger. Vibrant frescoes and richly detailed interiors create the ambience of a royal hunting palace. With personalized options for each destination, you could well have The Sher Garh Experience that stays with you long after your holiday ends.
Conference Hall
Our conference hall has a capacity of 50 pax with all amenities like LCD, OHP, Slide projector, AV system. We organize Conference, theme parties etc. To top it all we have specially trained staff to take care of all your needs & service you with a smile.
Location
Overlooking the awesome Aravali ranges, The Sher Garh, Ranthambhore is conveniently located. The distance of the national park is hardly 1 KM and a 5 minutes drive from the resort will take travelers to the park. The Sher Garh is close to the railway station too. Besides, it is connected with the cities like Jaipur, Kota, Agra, Delhi, Jodhpur, Ajmer and Udiapur by road.
Request Booking
OR
Contact us now :
Limra Hospitality Pvt.Ltd
Voice : +91 - 0120 - 4212120 / 0120-2453786, UK - (044) 2030049424
Email : ranthamborejeepsafari@gmail.com
Mobile : +(91) - 9810226091, 9999776081