Tiger Machan Resort

Sherpur Kutalpura, Ranthambore Road
Dist. Sawai Madhopur, Ranthambore, Rajasthan 322001
India
About Hotel
Hotel Tiger Machan Resort is a unit of Sawai Madhopur Resorts Pvt. Ltd. The resort is situated at the foothills of Vindhyas & Aravali and very near to real nature. Set amidst the sprawling greenery of Sawai Madhopur, the Tiger Machan Resorts Hotel is an idyllic location for a perfect wildlife vacation.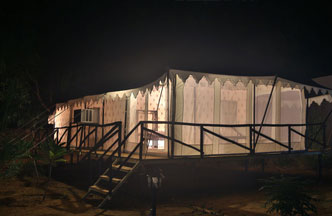 How to Reach
Tiger Machan Resort is approx 12 kms. far from Sawai Madhopur Railway Station.
Air: The nearest airport is Jaipur (132 kms by train)
Rail: Sawai Madhopur is on the main Western Railway route between Delhi and Mumbai. There is a direct rail connection between Sawai Madhopur and Jaipur (132 kms), Agra, Bharatpur, Chennai, Howrah, Amritsar, Gorakhpur, Delhi, Mumbai, Emakulam. Patna, Indore, Bangalore, Sealdah etc.
Road: Sawai Madhopur is well connected by road to major cities of Rajasthan. There is a direct link between Jaipur and Sawai Madhopur via Tonk via Dausa. Bharatpur vai Dausa, Bundia via Indragarh.Tiger Machan Resort
General Information
Climate : Means Max.Mean Min.
Summer : 37.0'C 23.0'C
Winter : 29.0'C 9.1'C
Rainfall : 68 cms.
Best Season : October to March
Clothing : Summer Light tropical
Languages : Hindi, English, Rajasthani (Dhundhari)
Locational Advantage
Hotel Tiger Machan Resort is located near the Ranthambhore National Park.
Hotel Accommodation
Tiger Machan Resort Hotel offers luxury cottages at very reasonable price. Each cottage is tastefully decorated and equipped with all the latest facilities and amenities. Attached bathrooms, 24 hours hot & cold running water, direct dial phones, television, round the clock room service are some of the convenience that goes with the cottages.
Hotel Facilities
> NATURE GUIDES
> CAMP FIRE
> BAR
> NATURE WALKS
> VILLAGE TRIPS
> DOCTOR ON CALL
> JUNGLE JEEP SAFARI
> TRAVEL DESK
> LAUNDRY
> MONEY EXCHANGE
> AYUVERVEDIC MASSAGE
> 24 HRS ROOM SERVICE
> BACK UP (ELECTRICITY)
> SAFE BOX
Request Booking
OR
Contact us now :
Limra Hospitality Pvt.Ltd
Voice : +91 - 0120 - 4212120 / 0120-2453786, UK - (044) 2030049424
Email : ranthamborejeepsafari@gmail.com
Mobile : +(91) - 9810226091, 9999776081