Abrar Palace (Tent Accommodation)

Ranthambore Road,
Sawaimadhopur, Rajasthan 322001
India
About Hotel
Welcome to Abrar Palace a romantic getaway, a vacation with close friends or a retreat with your colleagues to energize and refocus, there are many reasons to seek out beautiful places. Find relaxation and beauty at The Abrar Palace & Jungle Camps –Camp, Trek and Rejuvenate, at Ranthambore. Stroll into our 20 acre forest glory, dine at our restaurant or by the pool side overlooking the mountains, go for a cycling trek in the pure jungle air or just relax on the decks outside the Jungle Camps. Time slows down to almostHOTEL ABRAR PALACE AND JUNGLE CAMP WILDLIFE RESORTS IN RANTHAMBORE nothing in our forest haven.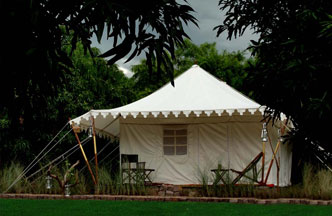 Hotel Accommodation
Luxury Air Conditioned Rooms (14)
Luxury Air Conditioned Tents with attached modern bath (9)
Air-conditioned Rooms
All the rooms have functioning air conditioners and all modern amenities, double beds adorn these huge bedrooms.
Hotel Facilities
> Room facilities
> Mini Bar
> Electronic Safe
> Tea/Coffee Maker.
> Intercom
> 24-hour Hot & Cold water facility
> Satellite TV
> Hair Dryer
Request Booking
OR
Contact us now :
Limra Hospitality Pvt.Ltd
Voice : +91 - 0120 - 4212120 / 0120-2453786, UK - (044) 2030049424
Email : ranthamborejeepsafari@gmail.com
Mobile : +(91) - 9810226091, 9999776081