Ranthambore Kothi

Near Helipad, Sawai Madhopur,
Khilchipur, Rajasthan 322001
India
About Hotel
Cocooned midst the lush green forests and edged with the soothing sight of natural water lake, Ranthambhore Kothi offers a well appointed, never to be forgotten experience, with an exciting chance to glimpse the very rare tigers, and other species in complete wild..

If your senses need soothing and frayed nerves need mending, a holiday with Ranthambhore Kothi will restore you. Nestled by the thick vegetation, picturesque vantages, green fields, beautiful landscaped gardens and adjacent to the National Park, "Ranthambhore Kothi" promises an excellent holiday experience for your family.

Built like an old British Bungalow in the area of 14400sq.mt, the Ranthambhore Kothi offers 28 well appointed and aesthetically designed rooms comprising of suites and regal rooms. These Rooms and suites come with the distinctive features like modern interiors, huge courtyard and private balcony to enjoy the fascination sight of open gardens, swimming pool and the tiger sanctuary. And if the peace in your room gets a little too much, there's always a visit to sight the Big Cats for that extra thrill.

Have a perfect vacation with Ranthambhore Kothi and experience the thrills of Jungle Safari. Mark on the blissful holiday and discover more about big cats as you stay at one of the most luxurious and promising hotels in Ranthambhore.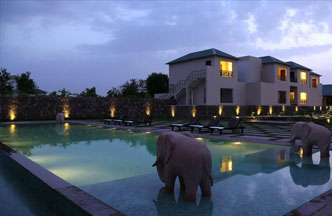 Hotel Dinning
With the capacity of catering to more than 200 persons, our main courtyard is an elegant area for the delightful dining and party experiences. The dining hall interiored with wooden false ceiling and refreshing garden views serve the succulent cuisines from the kitchens of Rajasthan and beyond. At our "Pool Side Bar" guests can enjoy tantalizing wines and spirits with luscious snacks. Tiger Onyx Stone bar counter, wooden furniture, dimming lights, sound of fresh water and the calming fragrance of lotus flowers from the pond adds up to the luxury of Bar. These aesthetically designed services offer you an unforgettable experience to cherish beyond times.
Hotel Spa
Indulge yourself at the "(Name of Spa) Spa", ideally located by the pool and beautiful lotus pond, which offers a host of treatments, massages, open rain shower and much more to completely rejuvenate your mind, body and soul after the safari..
Request Booking
OR
Contact us now :
Limra Hospitality Pvt.Ltd
Voice : +91 - 0120 - 4212120 / 0120-2453786, UK - (044) 2030049424
Email : ranthamborejeepsafari@gmail.com
Mobile : +(91) - 9810226091, 9999776081