Vanya Mahal Ranthambore

Sherpur, Ranthambhore
Sawaimadhopur, Rajasthan 322001
India
About Hotel
Vanya Mahal was built like a dream weaved with the great Rajasthani architecture and essence of its age old traditions. This combined with its strategic location in the outskirts of Ranthambhore National Park, gives the hotel best of both the worlds, the 'Wild' and the 'Luxury'.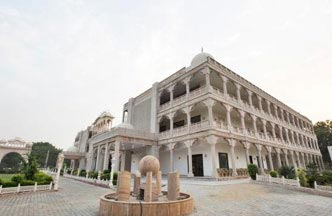 The dream of our Promoters was to build a Palace where the guests cold relive the grandeur of the Indian Royalties of the old age Rajasthan. Every brick of the palace has been strategically placed so as to capture that feeling of being present in the era of the Maharajas.
Ranthambhore was once the hunting grounds of the Maharajas of Jaipur. Today, our aim remains to preserve that glory by providing such facilities and services that a modern day Maharaja would receive. Special attention has been paid to the architecture and design of the hotel.
Dholpur Stones, carved into the beautiful Shekhawati design which date back to the era of Mughal Raj, form a part of the exteriors of the palace. Bhitti Chitra Kala or Traditional Rajasthani hand-made wall paintings have been extensively used in the hotel which epitomizes a Royal Rajasthani experience.
The royal experience vision has not just been incorporated in the tangibles but also in the services that we offer. All the modern day services and facilities are available in the hotel.
Swimming Pool
Enjoy a cold dip in the hot weather in one of the biggest pool in Ranthambhore. Pool side also makes one of the most romantic places to have a private romantic dinner or just to calm the senses with few drinks.
Ball Room
Our Ball Room is equipped with all the facilities to make your special day incredible and unforgettable. It can easily accommodate 500 people and all the other arrangements can be made in-house. The spacious Ball room combined with our wide array of luxurious accommodations makes the hotel a perfect place to host a grand celebration.
Conference Hall
Vanya Mahal holds the largest conference hall in the whole of Ranthambhore for those professionals looking for meetings, training sessions or recreations away from the office environment. It has been equipped with all the audio-visual facilities.
Fitness Centre
We know that even though you're on vacation, your fitness regiment isn't. With Vanya Mahal's onsite gym, you can keep an eye on your form even when you are away from home. The hotels gym is equipped with treadmills, weight-training machines and free-weight equipment to help you keep your routine on check.
Spa Centre
At our Spa & Health Centre you'll be suspended in pure tranquility, where muscle tension and the mind's concerns simply melt away allowing you to emerge refreshed, balanced and energized. You can choose from a full range of exceptional treatments; massages and body care therapies, which include full-body, neck and shoulder relief, hot stone and deep tissue massage.
Request Booking
OR
Contact us now :
Limra Hospitality Pvt.Ltd
Voice : +91 - 0120 - 4212120 / 0120-2453786, UK - (044) 2030049424
Email : ranthamborejeepsafari@gmail.com
Mobile : +(91) - 9810226091, 9999776081