Hammir Wildlife Resort

Ranthambore Fort Road, Opposite Oberoi Vanyavilas
Sawai Madhopur, Ranthambore, Rajasthan 322001
India
About Hotel
The resort gets its name from the Hindu ruler "Hammir" of Ranthambhore, Rajasthan, India. The Hammir Wildlife Resort is ideally located on the main Ranthambhore road at a comfortable distance from the park as well as from the neighboring town of Sawai Madhopur. It offers good facilities and the service is hospitable. The rooms are clean and comfortable and offer flavors of Rajasthan; they offer an option between air-conditioned and air-cooled rooms and cottages.

Enjoy the excellent services and comfort in the cottages of the Hammir Wildlife Resort. The traditional and rustic décor of the rooms allure the guests to this Ranthambore resort. One of the best resorts of Ranthambore, this is the ideal destination for tourists to relax after a days tour.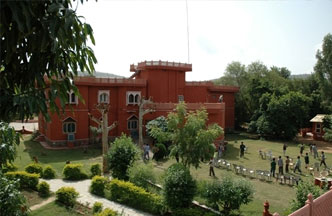 Hotel Accommodation
The Hammir Wildlife Resort offeres nicely decorated, well furnished, clean rooms and cottages which are either air-conditioned or air cooled for the comfort of the guests. Enjoy your stay in the well equipped room and cottages of the Hammir Wildlife Resort of Ranthambore in Sawai Madhopur. The rooms have a traditional Rajasthani ambience which is the comfort hub of tourists.
The resort has sprawling lawns front and back, which are ideal for winter morning breakfasts and for general lazing around between all the hectic activity at the park. The resort terraces are also huge and offers a view all the way to the town of Sawai Madhopur. Sitting there in the evenings with your refreshments takes away all the tiredness resulting from the action packed days. The Hammir Wildlife Reosrt has a huge terrace with an excellent view.
Hotel Facilities
The Hammir Wildlife Resort arrange time to time or on demand many activitiese and entertainment programs like Camp fire, Camel Ride, Rajasthan Dance, Puppet Show, Village Safari. Apart from all these – Local sightseeing is also a regular feature of us. Surwaal lake and mansarovar lake are good place for bird watcher.
Hotel Dining
Enjoy the exotic Rajasthani and Oriental cuisine in the Hammir Wildlife Resort in ranthambore in Sawai Madhopur.
Hotel Business Facilities
The resort arranges for conferencing facilities for the business tourists on their visit to Ranthambore.
Hotel Recreational Facilities
Enjoy the wildlife in the safaris and nature walks organized by the Hammir Wildlife Resort. Moreover you can enjoy the soulful folk melodies in the cultural programmes and camel cart rides and visit to the Ranthambhore Fort, Amreshwar Temple, Ganesh Temple, Balas Sanctuary
The Hammir Wildlife resort offers the following facilities
> Attached Bathroom
> Running Hot & Cold Water
> Satellite Television
> Telephone connection
> Spacious dining halls
> Swimming pool
> Rajasthani entertainment activities
> Souvenir shop
> Local sightseeing tours
> Doctor on call
> Massage on call
Request Booking
OR
Contact us now :
Limra Hospitality Pvt.Ltd
Voice : +91 - 0120 - 4212120 / 0120-2453786, UK - (044) 2030049424
Email : ranthamborejeepsafari@gmail.com
Mobile : +(91) - 9810226091, 9999776081