Dev Vilas Ranthambore

Ranthambhore Road,Khilchipur,
Sawaimadhopur, Rajasthan 322001
India
About Hotel
Welcome to Dev Vilas, your abode during your visit to Ranthambhore National Park. The inspiration behind this venture is my mother Dev Kumari, to honor the strength and confidence instilled in me by her, the building is named Dev Vilas that means, "Abode of Dev".

Set in three and a half acres of land, the building in Indo-Saracen style takes a cue from the Shikaar or hunting lodges built by the Maharajahs. It follows the traditional architectural lines, inspiring romance and adventure and is located nearest to the entrance of the National Park.

Situated in a eco-sensitive zone, the hotel responsibly uses recycled water for non-consumable plantations on its property. The building has also been designed to harvest all rain water and re-charge ground water using traditional storage system.

Dev Vilas is also one of India's first hotels designed to be friendly to the physically challenged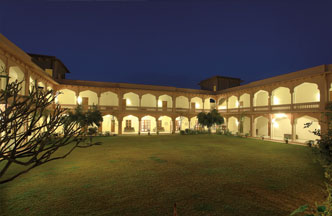 Hotel Facilities
Elegantly appointed large rooms with King and Queen beds for twin occupancy. All rooms have two toilets to facilitate guests for those early morning jungle drives. Each bathroom has stand-alone shower and bathtub next to picture window. Telephone, Cable TV, Air- Conditioning and Mini-Bar. Located in a grove of trees, the Tented Bungalows have air-conditioning, TV, hot & cold running water / bath.
Indo - Saracenic style, inspiring romance and adventure
> Conference Room
> Internet Connectivity
> Travel Desk
> Doctor on calll
> Major credit cards accepted
Hotel Accommodation
Dev Vilas with its individually decorated 19 Deluxe rooms (14 Double/ 5 Twins), 7 Tented Bungalows and 2 suites is the artistic Conception of Ms. Jane Emison of Minneapolis, USA. who has sourced materials and craftspeople locally, thus ensuring the participation and benefit of the local talent.
No two rooms are alike, each designed in a unique sequence of color, style and ambience.
Fateh's - The Bar
Named to Celebrate Thakur Fateh Singh Rathore, a living legend amongst tiger conservationists and one of Geoffrey Ward's " Tigerwallahs ". The art work in this room honors the tigers painted by artists from the Ranthambhore School of Art.
Audubon Room - Dining Room
An elegant, yet informal dining room adorned with limited edition lithographs by J.J. Audubon. The restaurant serves fine Indian and Continental cuisine with AL Fresco dining by the swimming pool.
13th Century monuments, Guava, Mango orchards and a breathtaking view of the Aravali hills of Ranthambhore from the sunset terrace
Safari to The Ranthambhore National Park
The Majestic 8th century fort of Ranthambhore dominates the skyline of one of the best tiger habitats in India. The jungles of Ranthambhore National Park are a wonderful mix of two different eco-systems formed at the convergence of the Aravali and Vindhya mountains. It also offers a wonderful mixture of flora, fauna and avian population.
Request Booking
OR
Contact us now :
Limra Hospitality Pvt.Ltd
Voice : +91 - 0120 - 4212120 / 0120-2453786, UK - (044) 2030049424
Email : ranthamborejeepsafari@gmail.com
Mobile : +(91) - 9810226091, 9999776081