Sher Bagh

Ranthambhore Road, Sherpur Khilchipur
Sawai Madhopur, Bamhor, Rajasthan 322001
India
About Hotel
Sher Bagh is the perfect place for those looking for the ultimate in authentic Indian jungle camps. The tents, each with their own little verandah, are arranged in a semi-circle around a garden and tented pavilion, in keeping with their surroundings.

The spacious, airy main lodge has a sitting area and an excellent library-bar on the upper level, ideal for a beer or bloody-mary between jungle drives.

The Relais & Châteaux signature reflects this ambition: "ALL AROUND THE WORLD, UNIQUE IN THE WORLD." Relais & Châteaux is a family of hoteliers and Grand Chefs from all over the world who share a passion for and a personal commitment to ensuring their guests are privy to moments of exceptional harmony. To choose Relais & Châteaux is to experience an unforgettable celebration of the senses.Sher Bagh.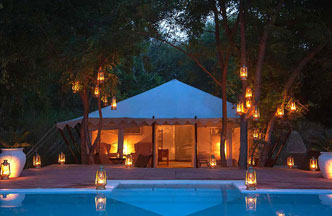 Hotel Accommodation
Sher Bagh has twelve luxury double-bedroom tents with their own verandah and en-suite bathrooms.
The Dining Tent serves a full English breakfast, a light and usually Italian lunch and a traditional Indian dinner by candlelight. A selection of food and refreshments may also be ordered in your tent. Sher Bagh has its own organic vegetable and herb garden. The Library Bar is open throughout the day. Perfect for a Beer or Bloody Mary before lunch! The Baradari Tent serves afternoon tea, and is also a good place to read or play a board game during the day.
Discreetly located mud-decks are provided for in various locations at camp. Should you wish to while the hours away with a book or just enjoy some rest amidst the sounds of the forest, these will prove an ideal spot. Hammocks, day-beds and campaign-style furnishings are provided for your leisure.
Our hand crafted swimming pool offers stunning views of the National Park. Guests may wish to relax in the cool waters with a drink or enjoy a swim during the heat of the day between game-drives or any other time. A campfire is lit throughout the winter season, and a bar set up under the stars. Guests may dine, al-fresco, around the fire which is a unique experience at Sher Bagh.
Massages are a brilliant way to relax after a long day in the jungle. Sher Bagh offers foot, hand, shoulder and head massages using local, age old techniques, and natural oils.
Besides jungle drives within the Ranthambhore National Park, Sher Bagh offers specially tailored excursions including horse and camel safaris in the area around the camp as well as visits to the 8th century Ranthambhore Fort in the heart of the park. For a bit of local shopping, The Dastakari Kendra, a local co-operative that provides employment to village women and keeps alive local skills is a must. Laundry is available at the camp.
The Sher Bagh Boutique sells a range of specially selected and designed products.
We have a doctor on call and there is a clean and modern Primary Health Care Centre 3 kilometres away. The camp has a telephone, fax and email facility, though connectivity can be erratic. We have round the clock electricity, operating on 220-250 volts.
Sher Bagh is operational from October to April
By Air
There is an airfield in Sawai Madhopur, 14 kilometers from Sher Bagh. There is a helipad 4 kilometers away from the Camp. We would be happy to assist you in chartering a private plane or helicopter. The nearest airport is Jaipur, 170 kilometers away.
By Rail
The nearest railhead from the camp is Sawai Madhopur Junction 12 kilometers away. There are several trains every day from Delhi, Mumbai, Jaipur, Jodhpur and other cities. It takes either three and a half or five and a half hours (depending on the train you choose) from Delhi, overnight from Mumbai, seven hours from Jodhpur and three hours from Jaipur.
By Road
From Delhi : 420 kilometers
From Jaipur : 180 kilometers
From Jodhpur : 476 kilometers
From Agra : 350 kilometers
Request Booking
OR
Contact us now :
Limra Hospitality Pvt.Ltd
Voice : +91 - 0120 - 4212120 / 0120-2453786, UK - (044) 2030049424
Email : ranthamborejeepsafari@gmail.com
Mobile : +(91) - 9810226091, 9999776081