Taj Sawai Madhopur Lodge

National Park, Ranthambore Fort Road,
Sawaimadhopur, Rajasthan 322001
India
About Hotel
In the land of Heritage Properties, the nearest Heritage Resort to Ranthambore National Park is at Sawai Madhopur. The 12-acres heritage property named Sawai Madhopur Lodge is a plush green expanse and only 20-min drive from the National Park. And yes, the roars of the Ranthambore predators are clearly audible from here at night. Sounds thrilling? The airport is 172km and the Sawai Madhopur Railway station is 1km from the hotel.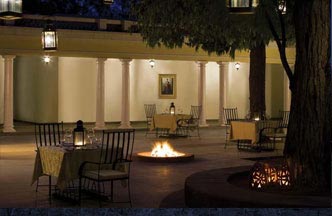 Hotel Facilities
> Travel Desk Service
> Tennis
> Badminton
> Body Massage
> Pool table
> Business Center
> Banquet
> Wildlife excursions
> Parking
> Laundry Service
> Car Rental Desk
> Currency Exchange
> Doctor on Call
> Airport transfers & cars on hire
> Travel and Tour guides
Features
> Rooms : 36
> Restaurants : 1
> Halls : 1
> Bar : 1
> Check Out time: 12 noon
Hotel Accommodation
The 36 luxurious rooms are spacious and the original royal decor is preserved to give its guests an atmosphere that befits only the king. Life-sized portraits on the rustic walls of the hotel look down upon the guests, who in turn, look back with equal awe and wonderment. Records have it, Queen Elizabeth and Prince Philip, when they came to India, stayed at one of the Sawai madhopur lodge suites. The best overnighting option, however, are the tents that the hotel shoots up in its premises during the peak tourist seasons - Oct-March. These are secure tents with lockabke doors. Taj Sawai Madhopur
Hotel Dining
The multi-cuisine restaurant here serves the best delights from the Rajasthani kitchens, along with a concoction of different food items from north India, China and Continental favorites.
Sawai Madhopur Lodge Specials
The hotel has jeeps for hire for the safari trips to the Ranthambore National Park and offers tours to Devpura for black-buck sighting, to Mansarovar for bird-watching and of course tours to the neighboring villages. All trips are supplemented with hotel-provided trained guides.
Sawai Madhopur Lodge for Corporates
Like the other Taj properties, the hotel is a preferred venue for corporate events ot informal gatherings, held over weekends. There is a U-shaped seminar hall, an auditorium and the spacious dining area to host such events and functions. Sitting capacity is 30-200 persons.
Request Booking
OR
Contact us now :
Limra Hospitality Pvt.Ltd
Voice : +91 - 0120 - 4212120 / 0120-2453786, UK - (044) 2030049424
Email : ranthamborejeepsafari@gmail.com
Mobile : +(91) - 9810226091, 9999776081