Khem Vilas Ranthambore

Khilchipur, Sawai Madhopur District
Sherpur, Rajasthan 322001
India
About Hotel
Khem Villas - The camp is established on land that Goverdhan purchased in 1989 and converted into a wild area growing trees and creating open grasslands and small water bodies, Spread over an area of 10 acres it has become a habitat in itself. It is common to see jackals, jungle cats, hyenas, desert fox, hares etc. within the camp itself. As it is close to the park one can sometimes see pugmarks of leopards, tiger and bears that have passed by and sometimes if one is lucky one may even get to see them near the Khem Villas. Because of the different habitats in the property it has contributed to creating a bird watchers paradise. All kinks of Birds from the millions of White Throats among the grasslands to the Sparrow hawks hovering in the sky, the Black Winged Kites in the trees and the Moore Hen near the water can be seen on the property itself. The peace and tranquility at the camp is unlike any other place in Ranthambhore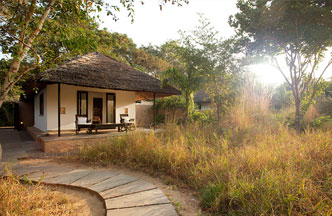 Hotel Accommodation
The accommodation is divided into three categories and designed by Pritam, Rachel, Goverdhan and Usha keeping in mind that simplicity is the ultimate sophistication; therefore everything has been sourced locally using local materials. Khem Villas - The Camp is designed to provide an authentic experience that is unfussy yet functional.
Hotel Dining
The food in the camp - The Khem Vilas is freshly cooked using mainly home grown vegetables. Even the milk is from the local farm where the cows are fed organic feed. Guests will be provided a nice mix of Indian, Western and Oriental Cuisine providing rich flavours to suite every taste.
At Khem Villas, the guests will have a choice of having a selection of alcoholic beverages and cocktails either in air-conditioned comfort in the cozy bar or outside in the natural surroundings.
Rooms
The main building provides four bedrooms that are self contained and can be used as individual rooms or can provide the option for a small group to hire the entire portion as a private space to be enjoyed together. All the rooms are air-conditioned spacious with en suite bathrooms. The upstairs rooms have large bay windows that can be used to sit in and over look onto the agricultural fields, which are a golden hue in winters due to the flowers of the mustard crop.
Room Facilities Thatched Cottages
These are stand-alone cottage with a total private area of 40 X 40 feet. This includes a spacious and comfortable bedroom, large bathroom, an open to sky private plunge pool with an outdoor shower. Also included in this space is a large private courtyard and veranda. The bedroom is air-conditioned with a large glass doors overlooking beautiful undisturbed vistas that could be a water body or a dense jungle.
Tents
These are erected on a wooden platform on a steel frame with all the modern amenities. The bathroom are minimalist using simple natural materials like bamboo and wood to give a rustic charm without compromising on functionality that one expects.
Other Facilities & Services
Plunge Pool, Nature Guide, Jungle Trips, Village Trips, Nature Walks, Medical Facilities
Request Booking
OR
Contact us now :
Limra Hospitality Pvt.Ltd
Voice : +91 - 0120 - 4212120 / 0120-2453786, UK - (044) 2030049424
Email : ranthamborejeepsafari@gmail.com
Mobile : +(91) - 9810226091, 9999776081