Ranthambore National Regency

Ranthambhore Road, Opposite Saras Dairy
Sawaimadhopur, Rajasthan 322001
India
About Hotel
Ranthambhore National Regency is a nature oriented resort located in the midst of lush green environment. Bounded by the eye-catching Aravalli Hills, the National Regency has been established in the pollution free atmosphere. If you have planned for exploring Ranthambore National Park, you can enjoy the best accommodation facilities will a wide range of contemporary amenities Ranthambore National Regencyto ensure ultimate comforts. As Ranthambhore national regency is located with proximity to Ranthambhore National Park, it will be of great convenience to engage in numerous activities including exploration of historical monuments, fauna and flora. Moreover, you can also indulge in nature trails by booking your accommodation in Ranthambhore National regency.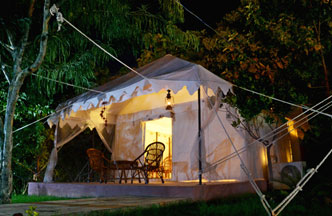 Hotel Facilities
When you book your accommodation with Ranthambhore national regency, you can access to an excellent range of facilities customized as per your preferences. You and your members will be welcomed to the hotel Ranthambhore regency according to the tradition of Rajasthan and this makes your visit a memorable one. All essential services are provided by having hospitality in mind without any delay. Being one of the best resorts in Ranthambhore, you will be provided with numerous reliable services such as
Hotel Dining
> Laundry services
> Pick up and drop facility
> Well maintained play area for kids
> BBQ
> Conference room
> Doctor during emergency needs
> Car hire
> Sight seeing
> Internet access
> Cultural dance program on request
Spacious Rooms at Affordable Prices:
There are several spacious rooms available in Ranthambhore National Regency including super deluxe and deluxe rooms at affordable prices. Each and every room is elegantly furnished and equipped with contemporary appliances. Thus, it is ensured that you feel much comfortable and deep sleep by the end of a tiring day. Both deluxe and super deluxe rooms are featured with spacious bed, LED TV and many more. Every room is integrated with well sophisticated air condition which keeps you cool the entire night
Ranthambhore National Regency Hotels Rajasthan
Delux Room
Well appointed interiors with all modern comfortable for single and double or twin beds with air conditioning, private bathroom, colour LCD, Tea Coffee maker and mini fridge facilities.
Super Delux Room
Well appointed interiors with all modern comfortable for double or twin beds with private seating lounge, air conditioning, private bathroom, colour LCD,Tea Coffee maker and mini fridge facilities.
Ranthambhore National Regency hotesl - wildlife indiaIf you have decided to explore Ranthambhore National Park and other important spots surrounding the region, it would take more than 2 to 3 days. If you are travelling with kids and women, you should opt for accommodation facilities to ensure comforts to them. Hence, you should look for one of the best hotels in Ranthambhore such as Ranthambhore National Agency. When you are doing so, you can enjoy ease staying during your vacation within your budget. After spending the whole night in this resort, you can get ready for the next day's excursion.
Request Booking
OR
Contact us now :
Limra Hospitality Pvt.Ltd
Voice : +91 - 0120 - 4212120 / 0120-2453786, UK - (044) 2030049424
Email : ranthamborejeepsafari@gmail.com
Mobile : +(91) - 9810226091, 9999776081