Hotel Sultan Bagh

MDR 111, Rawal, Ranthambore
near, Charoda Rd, Sawaimadhopur, Rajasthan 322029
India
About Hotel
Watching animals in their natural habitat without fear is really a valuable experience for many extreme wildlife lovers. Ranthambore, being one of the favorite destinations of wildlife enthusiasts and photographers is a home of unfriendly and camera shy Tigers. During day light, you can capture the moment when this most ferocious animal growls. Ranthambore National Park is surrounded by sensuous Vindhyas and Aravalli hills and it is considered to be the prime address of Project Tiger. This National Park has dense whispering deciduous forest with dhok trees offering home to a number of species. We welcome you to explore these rare species of wildlife in the midst of dense forest of Ranthambore National Park.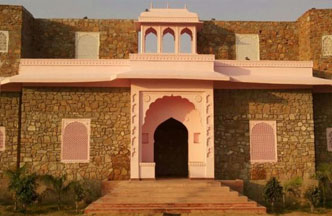 Our Sultan Bagh (Hotels In Ranthambore) resort will be a marvelous part of your wonderful holiday experience. With our royal and hospitality service, you can start discovering the beauties of amazing jungle, temples, fort and Tiger Reserve and other awe-inspiring destinations. In total, there are 10 double occupancy tents where you can find your accommodation and blend amicably with the nature. Our tents are designed in such a way that they are spacious withinter leading as well as shared veranda chalets. If you book accommodation with us, you can also enjoy mosquito screens, in room safe, air conditioned, tea cattle, mini bars, satellite TV, 24 hour power, telephone, running hot and cold water, Wi-Fi and many more.
We ensure you that these features which are adorned with ethnic door in a rich and tasteful manner will offer a lot of comforts. Our warm services will definitely make you come back and indulge in this wonderful nature oriented environment. You can also enjoy in-house entertainment in the form of indoor and outdoor activities including camel riding, horse riding, billiards, badminton, chess, cards and many more.
Hotels In RanthamboreIn order to facilitate our customers, we also provide online book service so you can book your holidays with us without leaving the comfort of your home. You must provide all the required details to get your holidays confirmed with us. Even if you want to enjoy jeep safari, we make all sorts of arrangements to enhance your level of pleasure as well as safety during safari tour. We are having professional guides who can take you to places where you can spot brave Bengal Tiger. Being one of the best Hotels In Ranthambore, we offer complete services together with accommodation to make your sightseeing tour more enjoyable
Request Booking
OR
Contact us now :
Limra Hospitality Pvt.Ltd
Voice : +91 - 0120 - 4212120 / 0120-2453786, UK - (044) 2030049424
Email : ranthamborejeepsafari@gmail.com
Mobile : +(91) - 9810226091, 9999776081