Hotel The Pugmark

Village Khilchipur Ranthambhore
Sawaimadhopur, Rajasthan 322001
India
About Hotel
The Pugmark Hotel / Resort sprawls over more than 5 acres at the edge of the Ranthambhore National Park in Rajasthan. Set amidst trees on a private estate, the Pugmark Resort overlooks Aravali Ranges. The resort displays a pleasant mix of modern architecture and imaginative landscaping. Beautifully designed by the nature, the cave is an ornate story of lily pools, waterfall and the raw rocks.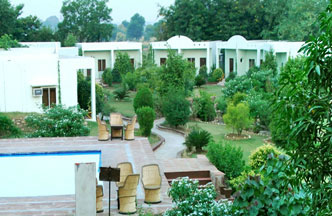 Hotel Accommodation
Rooms 30 Rooms, 20 Luxury A/C double bedrooms with verandahs.
Hotel Amenities
10 Swiss Tents , Trail End Cafe 24 Hrs Coffee Shop, The multi cuisine Restaurant, Ayurvedic Massage Centre (Proposed), Swimming Pool, Travel Desk & Currency Exchange, Badminton, Lawn Tennis, Volley Ball, Cricket, Shooting Range, Indoor Recreational Zone for kids, Lounge verandah & Library, Souvenir Shoppe, Doctor on Call, Credit Cards, Laundry & Dry cleaning, Complimentary transfers to & from helipad or Sawai Madhopur railway station. Special evening and talks with conservationists / Naturalists, Business Center, Conference hall with capacity of 100 - 120 people, Mobile on rent, Internet access, Meetings & Banquets. Hotel Pugmark
Hotel Location Advantage
By Train Nearest Rail Head: Sawai Madhopur (10 km ) on the Delhi Mumbai rail lines. Several trains a day from Delhi, Mumbai, Agra, Jaipur.
By Air Nearest Airport: Jaipur 180 km. Several flights from Delhi Mumbai and other parts of India.
By Road : Around 390 km by road from Delhi,
Around 180 km by road from Jaipur,
Around 250 km by road from Agra,
Also easily accessible from Bharatpur, Ajmer, Pushkar, Alwar.
Request Booking
OR
Contact us now :
Limra Hospitality Pvt.Ltd
Voice : +91 - 0120 - 4212120 / 0120-2453786, UK - (044) 2030049424
Email : ranthamborejeepsafari@gmail.com
Mobile : +(91) - 9810226091, 9999776081