Ranthambhore Forest Resort

Village Khilchipur, Near Ranthambhore National Park
Sawaimadhopur, Rajasthan 322001
India
About Hotel
Spread across a wide area of 392 sq km, the Ranthambore National Park is the place where you can find peace and solace amidst the fierce animals. The five acre land allotted to the resort is covered with lush green field, properly pruned to bestow it a decent look. The resort stands boldly in the middle of the field.

The place has a deeply rugged topography and a splendid combination of narrow valleys, cliffs and plateaus that make the landscape all the more beautiful. Cuddled up in the Aravalli Hills and the Vindhya Plateau, the Ranthambore National Park is the ultimate destination of the tourists.

It had previously been a wildlife Sanctuary but afterwards it was entitled as a National Park in the year 1955. There are also three important water reservoirs named Padam Talab, Rajbagh, Malik Talab which has migratory birds overhead and crocodiles underneath it. Forest Resort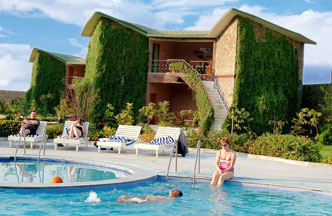 Hotel Accommodation
20 full sized rooms are available here which are all splendidly furnished and finely adorned; there are double bedrooms in each and every room with air conditioners and verandas. There is also the conference room for 70 people, well decorated lawns, attached bathrooms and bathtubs, and a lush green field to stare at when you are free.
How to Reach
Airport: 180 kms from Jaipur Airport
Railway Station: 3 kms from Sawi Madhopur Railway Station Bus Stand: 180 kms from Ranthambhore Bus Station
Hotel Events
Wildlife live-show and talk by an expert naturalist. Swimming Pool Mini Golf Course Tennis Court Volleyball Court Shooting Range
Hotel Services
> Safe
> Restaurants and Bars
> Doctor On Call
> Credit Cards
> Money Exchange
Hotel Room Facilities
> Attach Bath With Hot Cold Water
> Television
> Hair dryer
> Direct Dialing Telephone
> Air conditioning
Hotel Food Types
Indian - Continental - Rajasthani - Chinese - Other.
Meeting Rooms & Banquet Halls :
Conference hall
The hotel is equipped with all modern facilities for conducting a conferences and banquets for up to 70 people. Sitting Capacity: 70
We provide complete information on hotels in Ranthambore Rajasthan. Hotels in Ranthambore Rajasthan are well equipped with modern facilities and offers warm hospitality to its guests. India at its Best also offers online hotel room booking facility for hotels in Ranthambore Rajasthan. India at its Best provides online booking for hotel Ranthambore Regency.
Request Booking
OR
Contact us now :
Limra Hospitality Pvt.Ltd
Voice : +91 - 0120 - 4212120 / 0120-2453786, UK - (044) 2030049424
Email : ranthamborejeepsafari@gmail.com
Mobile : +(91) - 9810226091, 9999776081