Om Rudrapriya Holiday Resort

Ranthambore National Park Road
Sawaimadhopur, Rajasthan 322001
India
About Hotel
Om Rudrapriya Holiday Resort is one of the premium hotels in Ranthambore, Rajasthan. It is estooned by a bunch of stunning features. Since its inception, our holiday resort has been offering the best possible accommodation in the most economical tariffs whilst matching the demands of the people from various categories. The robust infrastructure our of holiday resort with its amazing location, competent human resource, luxuriant natural resource and advanced amenities have generously contributed a lot to facilitate our guests from different places. Om Rudrapirya Holiday Resort is standing with overwhelming dignity whilst radiating the effulgence of superiority. Its outside appears like creative effusion of imaginative strokes and extensive impracticality.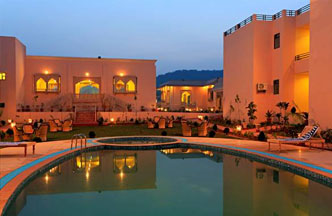 Om Rudrapriya Holiday Resort is one of the distinct niches for the tourists who wish to explore the beauty of Ranthambore to have impressive experience. You would never perceive such a wonderful essence of luxurious and comforts unless you book your accommodation with Om Rudrapriya Holiday Resort. When you stay over here, you will experience the miraculous blend of heavenly chic. Being located at the striking destination of National Tiger Reserve of Ranthambore, our holiday resort is equipped with everything to detain your imagination. With Om Rudrapriya Holiday Resort, you will get a chance of enjoying world class amenities together with appealing combination of urbane and wildlife.
Totally, there are 32 deluxe rooms and 4 honeymoon suite rooms with all basic amenities and modern facilities such as satellite TV, air conditioner, mini fridge, tea coffee maker, writing desk and many more. Our Rudrapriya resort has a fully furnished bar and multi cuisine restaurant offering Chinese, Indian Tandoori, Continental, Gujarati, South Indian and Marwari Thali with custom-made service. Our cookery team accommodates various sorts of dietary need including special menus for kids to satisfy your appetite and taste with uncompromising consideration. Moreover, we also make arrangements for an authentic and warm service for a personalized and specialized private event.
We offer versatile spaces to organize a great and perfect event. We have a team of dedicated staff who would work with you in planning and executing your event and meeting. It is our pleasure and great opportunity to serve you. We also strive a lot to ensure the most enjoyable and unforgettable days for you. You can also enjoy our spa treatment recipes made out of natural ingredients. So visit our Rudrapriya resort as our guest and enjoy outstanding levels of comforts in stunning vibes.
Request Booking
OR
Contact us now :
Limra Hospitality Pvt.Ltd
Voice : +91 - 0120 - 4212120 / 0120-2453786, UK - (044) 2030049424
Email : ranthamborejeepsafari@gmail.com
Mobile : +(91) - 9810226091, 9999776081