Hotel Ananta Palace

Ranthambhore Road,
Sawaimadhopur, Rajasthan 322001
India
About Hotel
Hotel Ananta Palace, Ranthambhore road in Rajasthan, is an all suite premium hotel with modern amenities, options of food and beverage and functional seating, all which admire you to engage, work, relax and play. In order to make the best of your holiday, we have an array of exciting plans designed to meet your needs and to acquire your complete satisfaction bin all aspects.

Hotel-Ananta-Palace When it comes to accommodation, we never compromise on four essential aspects that you will receive at our discerning style rooms, called elegance, comfort, neatness and style. Our rooms are designed in an elegant manner to amplify your holiday experience. Be it a deluxe or super deluxe room, you will definitely get a feel of awe along with pretty chic artefacts and the furnishings providing a luxurious living spaces which are singularly convenient, yet finely distinct.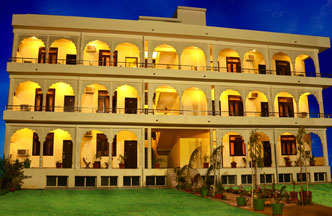 Hotel Facilities
As we are extremely concerned about the modern era of technology, we never make compromise on the features of contemporary styles in the functioning as well as in the looks of everything offered for you in the hotel rooms. The deluxe rooms feature a charming heritage like appearance that is ideal for honeymoon couples or anyone who prefer private sit-outs. While being away from home, you would probably be concerned about good food. We, at hotel ananta palace, want you to experience the sense of surprise while you dine in our hotel. Our luxurious affluent restaurant is finely enriched with eye-catching decors, paintings and furniture along with roof is provided the top-concern at hotel Ananta palace.
Hotel-Ananta-Palace-ranthambore-rajasthanIn terms of facilities, we ensure that your requirements are instantly met with the availability of vast range of facilities. The presence of outdoor pool features a great start of your day with refreshing dip and unwinding pleasure at the end of long day. If you are not intended to swim, then you can work on your tan at the spacious pool deck. Hotel Ananta palace is also a suitable place for conducting a conference and business meetings, hence you can plan your next conference meet at out hotel as we have separate and exclusive halls with comprehensive audio/video equipments to accommodate group presentations and other needs of entertainments. If you are planning for personal function or business meeting, we also have provisions to arrange you with customized menus of delicacies and dishes that you can discus and finalize with our experiences staff before the event.
Request Booking
OR
Contact us now :
Limra Hospitality Pvt.Ltd
Voice : +91 - 0120 - 4212120 / 0120-2453786, UK - (044) 2030049424
Email : ranthamborejeepsafari@gmail.com
Mobile : +(91) - 9810226091, 9999776081