Kipling Lodge Ranthambore

Charoda Rd, Ranwal
Rajasthan 322029
India
About Hotel
he magical four words that could light up any day. Or night, if you were a bedtime reader. The magical four words, that could transport you into a world of fantasy, shoe-shaped houses at times, castles on the edge of mountains, or just a cottage by the stream in the middle of a forest.

Now do you remember, once upon a time, there was a boy, who was adopted by wolves, and grew up as one of the pack, fighting against the Sher Khan?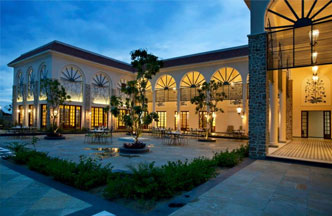 Jungle Book. Yes, that's the word. The beautiful world of Mowgli, where he lives in the boundless nature. Relive the fantasy of Jungle Book at Kipling's lodge. A warm throwback to the colonial age and hunting lodges that inspired Rudyard Kipling to pen his magnum opus, Kipling's lodge is right on the boundary of Ranthambore famous national Park, overlooking the idyllic Aravalli hills.
The old world charm is hard to miss. Starting with the distinctly Victorian rosewood book match furniture, hospitality that is reminiscent of the Raj, or a library bar where you can pick up a well loved classic and enjoy it over a glass of whisky, right by a fireplace. Bespoke rooms with private gardens fringed by trees, spa, swimming pool - luxury is bookmarked, whether you are a reader or not.
Don't let the opulence overwhelm you however. Exciting safari adventures, hikes to the Ranthambore fort, village excursions, and a lot more awaits you.
Tucked away a few hours away from Delhi and Jaipur, here is a two to three day holiday for those who value luxury and quality time. So whether you are a writer looking for inspiration, or a family seeking the ideal vacation, Kipling lodge awaits you. P.S - We really hope you spot the Sher Khan in the park. They are not the evil kinds like in the book.
About Kipling
Kipling Lodge, Ranthambore has been named after Rudyard Kipling, the 19th century Nobel Prize winning writer who has been immortalized by his literary works. The most popular of his books, the Jungle Book Series is a unique tribute to Indian wildlife and forests, as well as the innate connection between man and nature.
Set in the lap of nature, surrounded by lush fields and trees, and just a walk's throw away from Ranthambore National Park, Kipling Lodge reconnects you back to nature and self. Taking a leaf out of Jungle book and the raw adrenaline of wildlife. Yet, in the complete comfort of luxury, complemented by an authentic colonial charm.
Architecture & Facilities
A trip down the memory lane coupled by perfect luxury The first thing you'll notice about Kipling's lodge is the colonial-inspired decor, making itself obvious in not so many obvious ways.
It gave us great joy to recreate the ambience of an era that is today found only in the pages of yellowed books or crumbling Dak Khanas. The boutique hotel evokes the bygone in its own little ways - in the manicured lawns, or the tastefully done furniture, or the quaint library-bar.
We have a wide repertoire of rooms comprising suites, terrace rooms and superior rooms. The details of room-specific features are available in the accommodation section.
Safaris are one of the main attractions in Ranthambore. The chance to see the all elusive Indian tiger is hard to miss. However, back in the hotel, you can laze in the swimming pool and soak up in the Aravalli views. Or you can choose to pamper yourself in the spa. Equipped with steam and a number of rejuvenating Aurvedic regimes, the spa will spoil you to no end. May we add, the landscaped gardens are a sweet spot for fresh lime soda.
We hope you discover the perfect pause in your fast-moving life.
Dining
From the moment you step inside Kipling lodge, all your culinary needs are on the top of our staff mind. All your meals are freshly prepared right here in our kitchen and served piping hot in our colonial styled restaurant. Our chef whips up delectable local preparations as well as dishes from across the world. Our guests seem to unanimously rave about all of them. Of course, if you have certain culinary preferences, they will be attended to.
We are especially proud of our library bar where we stock wines, as well as international and domestic labels of various other liquor.
Request Booking
OR
Contact us now :
Limra Hospitality Pvt.Ltd
Voice : +91 - 0120 - 4212120 / 0120-2453786, UK - (044) 2030049424
Email : ranthamborejeepsafari@gmail.com
Mobile : +(91) - 9810226091, 9999776081