Treehouse Ranthambore

Ranthambore Road,
Sawaimadhopur, Rajasthan 322001
India
About Hotel
Imagine a world where time stands still. A world where the distant roar of the tiger echoes in the majestic foothills of the Aravalli's. A world where tradition meets modernity. Imagine the world of Anuraga-A Treehouse Resort, one of the most exquisite five star hotels in Ranthambore. Step into a magical world of history, culture and tradition, where the pristine white beauty of Anuraga-A Treehouse Resort is offset by the rich and vibrant cultural traditions of Rajasthan.

Treehouse Anuraga reinvents one of Ranthambore's oldest hotels, the Anuraga Resort to bring you one of the finest five star hotels in Ranthambore. Etched in loving detail, in the pristine white architectural style of a traditional Rajasthani haveli, the sprawling hotel offers the best of modern amenities for the leisure and business traveler. The Treehouse Anuraga has 40 rooms, and 4 plush suites, overlooking verdant green lawns, as well as all the amenities for conferences, weddings or the intrepid tourist. Step into a world where hospitality reigns supreme and the warmth envelopes you at every step, from the breath-taking motifs at the lobby to the intricate floral patterns that adorn each room. Conceived and created by one of the oldest families of Sawai Madhopur, Anuraga-A Treehouse Resort recreates much of the tribal art motifs and influences from the historic Meena community of Rajasthan to create its own distinct aura.

Spend a leisurely evening at the Treehouse Anuraga learning the history of Ranthambore and the ancient city of Sawai Madhopur from one of the oldest families in the district. Unwind at the aquamarine poolside café after a day spent chasing the elusive tiger, enjoy day trips where you can marvel at the dams and reservoirs that irrigate this desert oasis, or get away from it all with a trip to the special organic Shabri Farm and Dairy owned by the family to relish your own little patch of green. From spectacular conferences and banquets, to jungle adventures and private retreats, the Treehouse Anuraga will create memories that linger in your mind for a long time.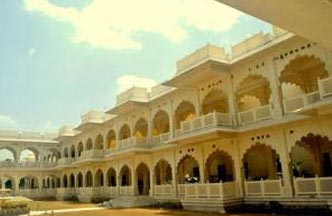 Hotel Recreation
At Treehouse Anuraga, even recreation is an experience you ought to give yourself into!
One of the Experiences at Treehouse Anuraga includes a "foot soak " in warm water relaxing salts.
Fully equipped Spa with modern and Traditional Therapies.
Gymnasium with State of the art Equipment
There is large swimming pool with a filtration plant.
There are two zones dedicated for our young guests. One indoor and one outdoors. Both the zones have options of Baby Sitters.
Hotel Facilities
> Air conditioned
> Super Deluxe bedrooms
> Recreation area
> Transport
> Reading cafe
> Swimming Pool
> Travel guides
> Hot & cold water
> Power backup
> Multi cuisine restaurant
> Room service
> Internet connection
> I.S.D, S.T.D, Fax
> Internet
> Rest area
> Bar
> Restaurant
> Reading hall
Request Booking
OR
Contact us now :
Limra Hospitality Pvt.Ltd
Voice : +91 - 0120 - 4212120 / 0120-2453786, UK - (044) 2030049424
Email : ranthamborejeepsafari@gmail.com
Mobile : +(91) - 9810226091, 9999776081